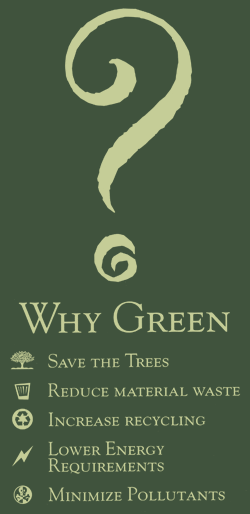 How can we be Green Smart?
Use low emitting materials. UV Finishes, 100% solids, no emissions. Eliminate urea formaldehyde. Use low VOC, HAPS Free finishes.
Use recycled and recovered content. At your discretion, you can decide to use products certified as being EPP (Environmental Preferable Product)
Use domestic products. Just because you choose Cherry, doesn't mean it's made in the U.S. Products made overseas are not subject to our environmental protection laws and overseas woods account for the majority of illegal harvesting that occurs.
Locally harvested core. In veneer core products, the actual plies account for 95% of the wood used in the product, requiring the most energy, and contributing the most to pollution and waste. Non-locally harvested materials will increase your pollution, waste and energy use by 10 fold.
How does Brubaker make green products?
To start, all of Brubaker's standard woods (oak, cherry, maple, pine) are derived from sustainable hardwood forests. We can also create all of your kitchen cabinets using environmentally friendly woods which use PureBond in the manufacturing process. Manufacturing with PureBond produces environmentally safe, formaldehyde-free decorative hardwood plywood.
Better living through chemistry.
With indoor air quality of increasing importance in today's architectural community, it's no small measure that Brubaker Kitchens can eliminate formaldehyde from product emissions. In fact, Brubaker Kitchens uses materials which are designed to be compliant with the U.S. Green Building Council's Leadership in Energy &Environmental Design (LEED®) standards.
Formaldehyde-free. Seriously.
When we say that we use formaldehyde free materials, we mean formaldehyde-free. There is absolutely no formaldehyde in the makeup of our wood. That's because Brubaker Kitchens makes it's green products from PureBond. It's derived naturally, then enhanced with a proprietary resin formulation.